Evangelism
One of the major aims of Abundant Life Living Hope International Missions is to take the gospel to those who are thirsty for the word of God. We carry out Crusades in the remote villages and the trading centres of southern Uganda, as well as preaching Godís word in schools and colleges. As a result of this work, Hope Clubs have been established in many schools and colleges in the surrounding area - we have seen God doing amazing things and saving many souls. The clubs also engage in a variety of sports depending on the resources and facilities available at school. The common sports include football and netball, volleyball, basketball, and athletics.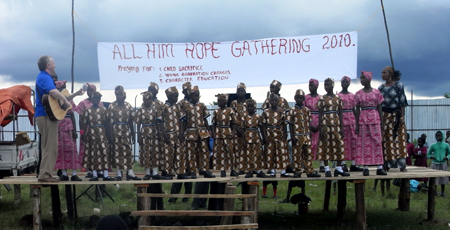 This outreach with young people is led by Micheal Mwebaza who started this work in 2007. Following a 2 year period of study at Bible College in the UK, Micheal has now returned to his native Uganda and, in addition to the work with Hope Clubs, has established Action for Children and Young People Uganda (ACYP), registered by the Ugandan Government.
The ALLHIM team supports Micheal in this work by undertaking evangelism, teaching lessons and giving testimonies in local schools during regular Mission trips.
If you would like to support this evangelism work please contact Roger Elver, Chair, ALLHIM - email allhimcharity@aol.co.uk or in writing to 14 Burford Street, Blaenavon, NP4 9PY.