Projects
ALLHIM Secondary School
Mother Janet Orphanage provides a sound primary education for pupils aged 3-15 years of age. Unlike in the UK and other western countries, progression through the education system in Uganda depends on financial support and examination success. Pupils do not automatically progress to the next class at the start of each academic year. Progression depends on a pass result, without which the child remains in the same class for another year.
Once a child completes primary education, their future is determined by (a) academic ability; and (b) financial sponsorship. This means that many pupils will leave school - sometimes as early as 13 years of age - without O or A level qualifications. For these pupils, there is an urgent need for vocational training to enable them to access the employment market.
For this reason, ALLHIM has purchased a plot of land and we pray that sufficient funding will be provided to enable the building of a Secondary School which will also have the capacity to train pupils in vocational skills. This project is urgent, as without this progression route there will be very little hope for these children.
The land which has been purchased for this development is currently being used to grow crops and supply food for Mother Janet. This work will continue until such time as funds are available and building is ready to commence.
This project is a huge undertaking but we believe that we can do all things through Christ who strengthens us. We ask for your continued prayers in support of this work.
Sewing Room
Ex pupils and local villagers are now able to learn needlework and other skills, as a result of the completion of a new Sewing Room. Thanks to generous donations, eight electric sewing machines together with a knitting machine have been provided for use at this facility.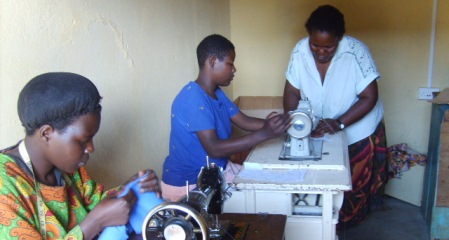 Clinic
Construction work on the Clinic at Mother Janet School began during the early part of 2010. This work has now been completed and a Nurse employed who lives 'on site'. This is really good news as children no longer have to wait up to 2 days for medical assistance to arrive - illnesses can now be dealt with immediately.
Again, the charity is indebted to those who so generously donated equipment for use in the Clinic - a manual centrifuge and a specialist microscope (which enables the testing of bloods and early diagnosis to be done quickly and on site).
Library
The 'shell' of the library is in place. Funds are needed to complete this facility. Books are at a premium in Ugandan schools and the Charity proposes to provide a well-stocked library to give the pupils the best possible research opportunities.
Click here to see a video of Rev John Byanyimba, founder of Mother Janet Orphanage, thanking supporters of ALLHIM Charity.