Mother Janet Orphanage
Mother Janet Orphanage was founded in 1989 by Rev John and Mrs Margaret Byanyimba who felt God's call to help children who had been orphaned as a result of AIDS, malaria and civil war.
Beyond the provision of food and basic care, the children needed to be educated. Both qualified teachers, John and Margaret proceeded to teach the children the basics of reading and writing from a very basic grass shelter which they erected at the back of their home.
The first brick-built building was funded by the late Janet Kirkwood from Gloucestershire who met John and Margaret whilst visiting her son who was teaching in Uganda. This became known as the 'MOTHER JANET' building and, soon after, the orphanage also adopted her name. There are currently over 350 children at the orphanage who are shown and taught the love of God, as well as being provided with food and education.
To date, the school now has some 13 classrooms, a dining hall, administration block and two dormitories - one for boys and the other for girls.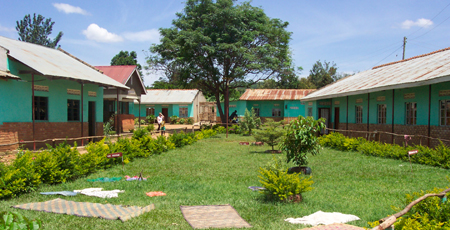 A clinic has recently been completed and a library is currently under construction.
Progression to Secondary Education
The Charity has purchased land with a view to constructing a Secondary School which will be fully equipped to meet the needs of pupils studying O and A level subjects, as well as those who would benefit from vocational courses.
Further information regarding Secondary Education is available via the Projects section of the website.
A series of videos of the children at the orphanage are available to view below: